On the Same Page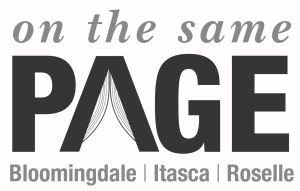 On the Same Page is a collaborative community reading event. Themed virtual programming based on this year's novel, I Always Loved You by Robin Oliveira will take place throughout the month of October. Patrons of Bloomingdale, Itasca, and Roselle Public Libraries are invited to take part in events at all of the participating libraries. Copies of the book are available at Bloomingdale beginning in September.
About the Book
I Always Loved You: A Story of Mary Cassat and Edgar Degas by Robin Oliveira
The young Mary Cassatt never thought moving to Paris after the Civil War to be an artist was going to be easy, but when, after a decade of work, her submission to the Paris Salon is rejected, Mary's fierce determination wavers. Her father is begging her to return to Philadelphia to find a husband before it is too late, her sister Lydia is falling mysteriously ill, and worse, Mary is beginning to doubt herself. Then one evening a friend introduces her to Edgar Degas and her life changes forever. Years later she will learn that he had begged for the introduction, but in that moment their meeting seems a miracle. So begins the defining period of her life and the most tempestuous of relationships
All On the Same Page programming will take place on Zoom
Paris in the Belle Époque
Itasca Community Library
Tuesday, October 5 · 7:00-8:00 p.m.
Register
The Paris that Mary Cassatt and her fellow artists experienced in the 1880s was already the most beautiful city in Europe thanks to the massive rebuilding of the 1860s that created amazing boulevards and new public buildings.
Gene Flynn looks at life during this period, along with the civic, cultural, and artistic turmoil that was happening in the City of Lights.
Adult Take & Make: Postage Stamp Collage Art
Bloomingdale Public Library
Tuesday, October 26
Visit Bloomingdale Public Library's YouTube channel to watch "Postage Stamp Collage" and learn how to use vintage stamps to create an easy and unique art object.
Supplies needed: Mod Podge, sponge brush, used postage stamps (or colorful tissue paper),
and 5" x 7" cardstock to fit a generic 5" x 7" picture frame. Shapes were made on the library's
Ellison Die Cutter, but they can also be made using a Cricut or Silhouette machine. Other
options are Martha Stewart paper punches that come in a variety of shapes and designs, or
using a stencil and tracing your shape, then very carefully cutting it out with a craft knife.
The first 20 people to email Kristina Giovanni at kgiovanni@mybpl.org will receive a bag of supplies starting October 26th.
Meet Mary Cassatt: An American Artist
Roselle Public Library District
Thursday, October 28 · 7:00-8:00 p.m.
Register
Renowned American painter and printmaker Mary Cassatt's story is brought to life in a dramatic one-woman performance by author and actress Lynn Rymarz. Witness Cassatt's determination in the life-long pursuit of her dream of becoming a world class artist, from her beginnings in Allegheny City, Pennsylvania, ultimately moving to Paris to study alongside the master artists of her day.
Virtual Art History Lectures
Art historian Jeff Mishur will be presenting the following lectures. Mishur is co-owner of Art Excursions, a company providing private guiding in Chicago, boutique art and culture tours in the United States, and lectures on a wide range of subjects. Jeff holds an M.A. in Art History from Northern Illinois University and has taught at the university level for many years.
Degas and the Dance
Roselle Public Library District
Wednesday, October 6 · 7:00-8:00 p.m.
Register
Edgar Degas, one of the founding members of Impressionism, explored subjects relating to the
dance, the human figure and horses in paintings, pastels, and prints. In addition, Degas was the only member of the Impressionists who produced a significant body of sculpture. Learn about
Degas' works in a variety of media.
Mary Cassatt: An American Impressionist in Paris
Itasca Community Library
Thursday, October 21 · 7:00-8:00 p.m.
Register
Mary Cassatt worked as an artist and businesswoman in an age when most women of her station were restricted to the home. Despite this, she was able to achieve success by painting private domestic subjects, especially women and children. A selection of works and themes that Cassatt pursued during her career in Paris will be discussed.
Édouard Manet: Painter of Modern Life
Bloomingdale Public Library
Monday, October 25 · 6:30-7:30 p.m.
Register
Édouard Manet took on the conservative art world in Paris by painting modern life as opposed to "accepted" subjects. By challenging the French academic system Manet inspired Morisot, Renoir, Monet and other Impressionists. Learn about important works in Manet's oeuvre including Luncheon on the Grass, The Balcony, and A Bar at the Folies-Bergère.
Book Discussions
Beyond the Library
Itasca Community Library
Monday, October 11 · 7:00-8:30 p.m.
Register
Adult Book Discussion
Roselle Public Library District
Thursday, October 14 · 7:00-8:00 p.m.
Register
Monday Night Page Turners
Bloomingdale Public Library
Monday, October 18 · 7:30-8:30 p.m.
Evening Book Discussion
Itasca Community Library
Tuesday, October 26 · 7:00-8:00 p.m.
Register
Morning Book Discussion
Itasca Community Library
Wednesday, October 27 · 10:30-11:30 a.m.
Register