Coming Soon - BPL Makerspace
While our building has been closed to the public, we've been hard at work creating a new makerspace in the library.
What is a makerspace? It's a place in which people with shared interests, especially in creating, can gather to work on projects while sharing ideas, equipment, and knowledge. At BPL, we've worked to design a space suitable for learning, crafting, and collaborating, accessible to all of our patrons.
In the coming weeks we'll be asking for your input on what you'd like to see in YOUR makerspace, including equipment and instruction, as well as what types of hours would suit your needs. Please use the survey button to the right to share your ideas.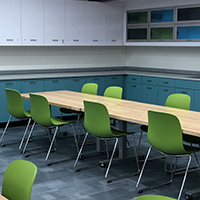 Equipment List
3D printers
Craft cutting machines (Cricut, Silhouette)
Ellison die cuts
Sewing machines
Embroidery machine
Button maker
Heat press
and more equipment to help you with your DIY, maker, and craft projects.
Learn via mybpl.org