Friends of the Library
The Friends Of The Library Invite You To Join Us
Lend A Helping Hand To Your Bloomingdale Public Library.
Who are the Friends?
We are a non-profit organization that supports the Bloomingdale Public Library. We raise funds to support library in various ways, including supporting reading programs and purchasing equipment and materials for the library.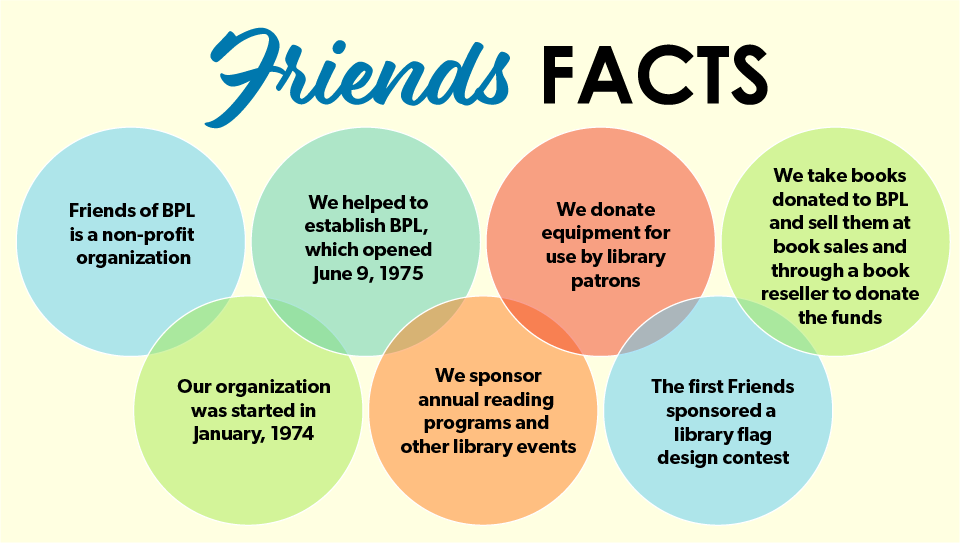 What do we do?
We plan fun fundraising events which benefit our library and our community. Our largest fundraiser is coordinating the Perpetual Book Sale at the library, which sells withdrawn and donated books both at the library and through our book reseller.
When & where do we meet?
Meetings are held four times a year. Members who are unable to attend meetings, but wish to help out, may donate a few hours of time to help with our various activities.
Upcoming meetings are as follows at 7:00 p.m.:
January 24, 2024 - Meeting Room C
April 24, 2024 - Meeting Room C
July 24, 2024 - Meeting Room C
October 23, 2024 - Meeting Room C
Donations and Dues
Donations and Dues can be paid with your VISA, Master Card or VISA Debit card via our online store. Click here for more information about donations and dues
How can you support the Friends?
You can shop our Perpetual Book Sale shelves at the library! All hardcover books are $2, everything else is $1. We accept cash payments in the drop box above the sale shelves (exact change only) or you can pay via Zelle to mybplfriends@gmail.com.
How do I join?
Please fill out the application form (online version) | application form (printable version) and return to a staff member in the Business Office of the library along with your yearly $5.00 membership fee or $50 lifetime dues.
You can also mail it to:
Bloomingdale Public Library
Attn: Business Office
101 Fairfield Way
Bloomingdale, IL 60108
If you would like further information, please email us at mybplfriends@gmail.com or contact the library at (630) 529-3120.