Equipment & More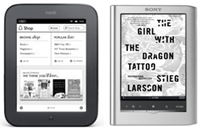 eReaders, Tablets, & MP3 Players
The library offers Kindles, Nooks, Sony Readers, and MP3 players for checkout at the Circulation Desk. For more information, please check eReaders & MP3 Players page.
Kids' Learning Tablets
The library offers InnoTab 2 tablets for checkout. The InnoTab 2 is customized for a kid-friendly experience and includes an eReader, games display, rotating camera and video recorder, art studio, and MP3 player.
Playaway Views
Playaway Views are all-in-one video players pre-loaded with videos of kids' educational and entertainment programming. They're simple, portable, and ready to use!
Assistive Devices
The library offers a collection of assistive devices for people with disabilities. This collection includes a variety of handheld magnifiers, as well as book holders, large print playing cards, and other items that are available to check out.
The library also owns a state-of-the-art CCTV text magnifier. This magnifying device can help those with low vision to read books, sort out their bills, or decipher a prescription medicine bottle.
Miscellaneous Equipment
The library offers much more than books, music, movies, and games. Patrons can also check out assorted equipment, including a ComEd power meter, microwave leakage tester, and more.