Check Out eReaders and MP3 Players @ the Library
Need help getting started with eBooks, audiobooks, and digital magazines? Check our eBooks page to learn more!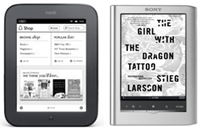 Kindles, Nooks and Sony eReaders
The library offers Kindles, Nooks, and Sony Readers for checkout at the Circulation Desk.
For additional help, please check the following device help sites:
Kindle
Nook
Sony Reader
---
eReader Circulation Policy
eReaders will circulate for 2 weeks.
eReaders may be placed on hold.
One renewal if there are no holds.
eReaders will only be checked out to Bloomingdale residents whose accounts are in good standing (no fines or overdue materials in excess of $5.00).
Late fees are $5.00 per day.
Restricted to use by cardholders age 18 and older.
The eReader must be returned inside the library and handed directly to a staff member at the Circulation Desk.
Check out will be limited to one per family.
---
Important Information About Using eReaders:
Library staff will verify that the eReader is in good working order and that all components are present at the time of checkout.
The eReader and all components must be returned in the same condition as when they were borrowed.
Please report hardware/software problems immediately by calling the Circulation Desk at (630) 924-2750. Patrons may be held responsible for any unreported problems.
Failure to comply with any of the outlined guidelines below will result in the loss of privileges of borrowing an eReader. This includes but is not limited to:
- Abuse of the equipment;
- Repeatedly returning the eReader late;
- Placing the eReader in a book drop;
- Tampering with the eReader, accessories, digital books, or attaching any equipment not designed for use with the eReader.
Users MAY NOT install ANY software or change the configuration of the eReader.
The patron is responsible for full replacement costs of the eReader or any parts that are lost, stolen, damaged, or otherwise not returned.
If you have any problems, questions, or concerns about the use of an eReader while you have it checked out, please contact the Circulation Desk at (630) 924-2750 or the Reference Desk at (630) 924-2730.
---
MP3 Players
The library has multiple MP3 players available for checkout at the Circulation Desk.
To check out an MP3 player follow these simple steps:
Contact the Reference Desk in person or by phone (630-924-2730) and request a player. If none are currently available, we will put one on hold for you.
Choose an audiobook to have loaded onto the player. You must select a title from our Always Available list.
Pick up your preloaded player at the Circulation Desk. They are usually available within 24 hours of your request. Please ask the librarian who is helping you for an estimate.
Players can also be checked out without preloaded content, so you can load your own music and spoken word materials. However, please be aware that the library deletes all files stored on the MP3 players when they are returned; if you purchase items and load them onto the MP3 player, you MUST back them up on your own computer.
For additional help, please check the following device help sites:
Zen MX MP3 player
iRiver T10 MP3 player (manual, zip file)